Two outdoor enthusiasts test Goldwin's high-tech jacket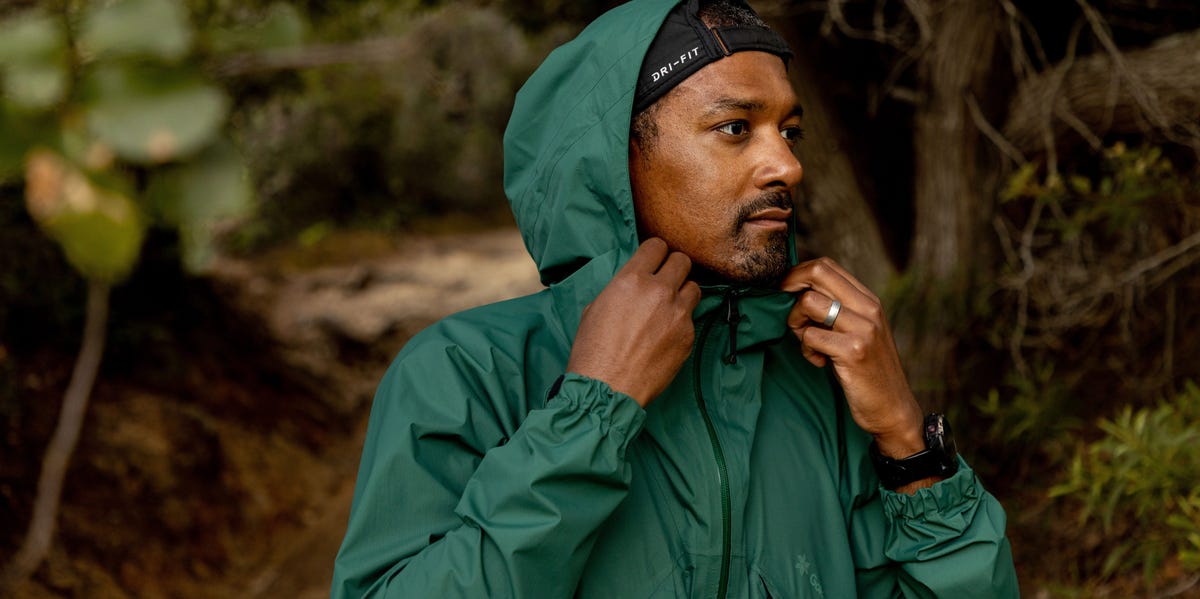 When it comes to braving the outside elements – and looking good in the process –Goldwin is hard to beat. The brand has incorporated comfort, usability and plenty of insight into the demands of outdoor activities into streamlined designs that are so stylish you'd be (almost) forgiven for mistaking them for high fashion without function. These qualities combine to produce a product line that works well for city dwellers exploring on the weekend and endurance athletes training in all weather conditions and in any environment.
Goldwin's PERTEX SHIELDAIR Jacket's minimal seams make it the ultimate lightweight companion, while its loose silhouette ensures comfortable arm movement. A mesh slip pocket in the right pocket is ideal for carrying your phone, keys or wallet with easy access. This jacket is carefully designed to make your days spent outdoors as comfortable as possible.
To test Goldwin's incredibly lightweight new PERTEX SHIELDAIR jacket, we found two athletes who are constantly pushing their outdoor adventure limits: Dezmond Taylor-Douglas and Andy Cochrane. We caught up with the two on the West Coast to test Goldwin's latest gear and learn more about the extreme activities from their summer records.
Dezmond Taylor-Douglas, endurance athlete, scientist
Dezmond Taylor-Douglas is a scientist and endurance athlete based in San Francisco, California. In his words, the goal of his work is "to help scientists discover biomarkers that can potentially be used as therapeutic targets and in drug development."
When he's not working in biotech, Taylor-Douglas explores new trails, catches sunrises after a tough climb, and runs with San Francisco-based running club Midnight Runners.
We caught up with Dezmond just out of town for a run on Mount Tamalpais where he put Goldwin's Pertex ShieldAir Jacket through a solid wear test.
Q: What are your outdoor goals for this summer?
DTD: "In June, I will be cycling 545 miles from San Francisco to Los Angeles with AIDS/LifeCycle. After that, my focus will be on adventure running, where I'll choose different destinations like Tahoe, CA, and Bend, OR, and run 50k/50 mile weekends."
Q: When it comes to buying outdoor gear, what is important to you?
DTDs: "Versatility is important to me. Can it carry all the stuff I bring on my run (GoPro, goggles, nutrition)? Can it regulate temperature well? And does it look and feel good?"
Q: What is your impression of Goldwin? How did you first meet the brand?
DTD: "The Goldwin brand surprised me. It was the first time I was exposed to the brand. The construction is high quality, light and minimalist. I enjoyed testing this jacket in 30+ mph winds during a race! It kept me warm and I was able to tighten the hood and the jacket to make the jacket sit closer to my body."
Q: How did you find hiking in the PERTEX SHIELDAIR jacket?
DTD: "This jacket was super comfortable and kept my body temperature warm – between 45 and 55 degrees Fahrenheit. The jacket is also good at wicking away rain, so you don't get wet while hiking/running. I loved the green color and the possibility to tighten the hood, the bottom of the jacket and the areas around the wrist to prevent wind and rain from seeping inside the jacket. "
PERTEX SHIELDAIR jacket
After five years of research and development with extensive lab and field testing, Goldwin has launched a new jacket featuring Pertex Shield Air technology, an extremely lightweight and breathable material that is also powerfully waterproof and durable. Manufactured using advanced lamination techniques, Pertex Shield Air membranes provide durable, waterproof protection, even after many wear and wash cycles. That means this jacket will last you season after season, no matter how harsh (or wet) your adventures get. The breathability of the jacket sets it apart from other competitors in the market. The interior chest pockets are made of mesh fabric which provides additional ventilation.
Price: $400
Andy Cochrane, writer, photographer and film producer
Andy Cochrane is an Oregon-based writer, photographer, and outdoor filmmaker. "I follow the athletes – backcountry skiers, ultra runners, mountain bikers and great mountaineers – in their element, capturing the stories as they unfold in the backcountry."
We caught up with Andy for a hike at Smith Rock State Park in Oregon's high desert to chat about his summer plans and what he's looking for in outdoor gear.
Q: What are your outdoor goals for this summer?
THAT : "I have a handful of big plans: a pair of shorts, a week of trail running in Ecuador, a hut-to-hut MTB trip from Durango to Moab, a week of racing through Greenland with a small group of pros, and a week of hut-to-hut running in Austria. So I guess my main goal is to survive?"
Q: When it comes to buying outdoor gear, what is important to you?
THAT : "Durability over just about everything else. I think the industry has gone a little overboard in saving weight, often sacrificing quality in the process. I'd much rather take the weight penalty and have something that I really trust when the going gets tough. Something that will withstand the elements day after day, week after week."
Q: How important are style and performance to you when choosing a jacket?
that "This is probably the wrong answer, but very little for me. Generally speaking, I do more remote and longer trips in the backcountry than most people, so I care a lot more about warmth, durability, breathability, wicking humidity and impermeability.
Q: What do you enjoy most about being active?
THAT : "I feel most alive when I'm out there. As far back as I can get. It's almost impossible to find that feeling anywhere other than really wild places."
Q: What stands out from the jacket?
THAT : "It's super light and comfortable and beads up easily. The fit and color are solid. I like to keep things simple and basic and this jacket does just that."