Track & Field Celebrates Year at Yellow Jackets Celebration – Track & Field – Georgia Tech Yellow Jackets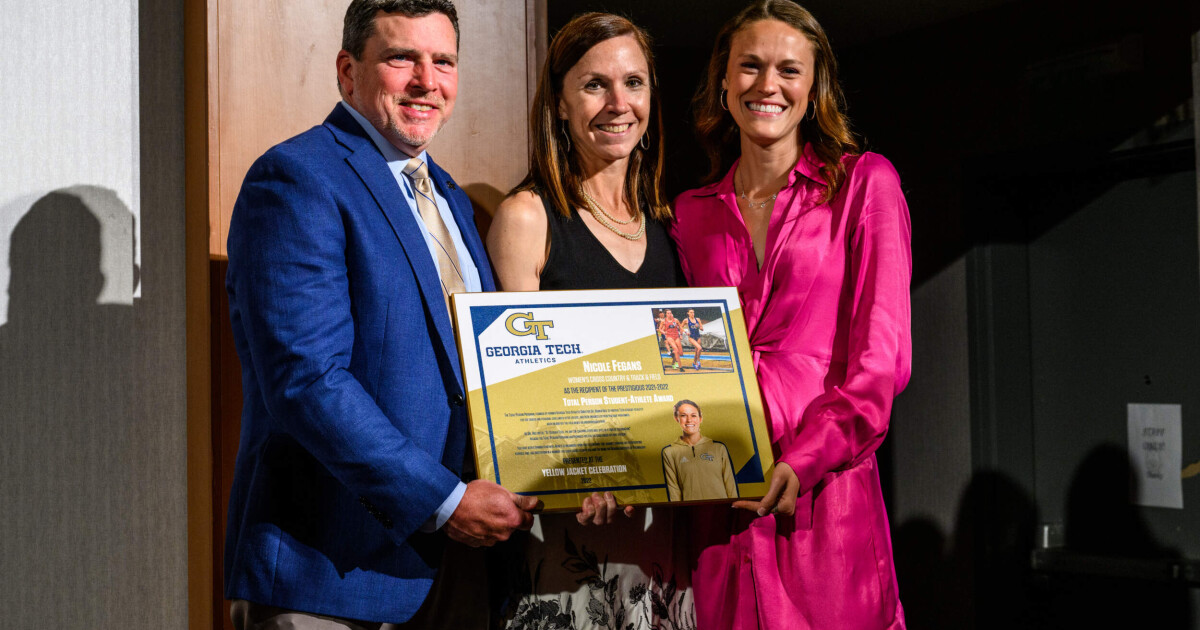 THE APARTMENTS – Georgia Tech Athletics recognized the achievements of its student-athletes over the past year at its annual Yellow Jacket celebration Monday night at the Georgia Tech Hotel and Conference Center.
Julia Bergmann and Caio Pumputis were the headliners of the winners, taking home GTAA Athletes of the Year for their outstanding successes during the 2021-22 campaigns.
Hosting one of the most decorated volleyball seasons in program history, Bergmann won a host of awards and honors. Helping Georgia Tech to only its second appearance in the NCAA Elite Eight Tournament, Bergmann was named AVCA All-American First Team and AVCA East Coast Region Player of the Year. Along with being named to the ACC First Team for the third straight season, the senior was named the ACC Player of the Year. She was four-time ACC Player of the Week during the season and finished in the NCAA's top 15 in wins and points on the year. Bergmann also eclipsed the 1,000 career win mark this season and moved into a tie for ninth in program history in career aces with 130.
A fifth-year breaststroke and IM swimmer, Pumputis has earned All-American honors in every individual event he has competed in at the NCAA Championships, collecting three accolades. He earned a first-team All-American honor after finishing fifth in the 200 breaststroke, while earning recognition in the 100 breaststroke and 200 IM. Pumputis also won a bronze medal in the 200 breaststroke at the ACC Championships to award him an all-ACC honor. During his illustrious career, Pumputis earned 11 All-American honors and nine All-ACC honors, the most by any Tech swimmer.
The full list of awards presented at the Yellow Jacket Celebration includes:
ROOKIE OF THE YEAR
Volleyball's Bianca Bertoino (helped volleyball enter the NCAA Elite Eight Tournament, was named to the ACC All-Freshman Team, received five ACC freshman honors , All-ACC Academic Team)
Baseball's Kevin Parada (during his 2021 freshman season, he was named consensus freshman All-American, second-team Southeast Region, third-team ACC, freshman ACC Honors, All-ACC Academic Team)
BRANDON ADAMS TEAM AWARD
The Brandon Adams Teammate Awards recognize student-athletes whose contributions to their program go far beyond the scope of athletics.
Baseball – Joseph Mannelly
Men's basketball – Jordan Meka
Women's Basketball – Anisa Clark
Men's Cross Country – Henrik Anderson
Women's Cross Country – Liz Galarza
Football – Charlie Thomas
Golf – Andy Mao
Softball – Abby Hughes
Men's Swimming and Diving – Wiggo Frohde
Women's Swimming and Diving – Sophie Murphy
Men's tennis – Marcus McDaniel
Women's tennis – Carol Lee
Men's Athletics – Jamie Miller
Women's athletics – Lydia Troop
Volleyball – Elizabeth Patterson
Bravo – Dmitry Palmer
Gold Rush – Isabelle Williams
ACC TOP 6 FOR SERVICE
The ACC Top 6 for Service Awards are presented annually to six student-athletes from each ACC institution who demonstrate dedication to community service and outreach programs.
Georgia Tech recipients: Abby Cohen (swimming and diving); Mikaila Dowd (volleyball); Emma Kauf (softball); Ben King (baseball); Dylan Leonard (soccer); Liz Rice (women's cross country/athletics)
ACC STUDENT-ATHLETE OF THE YEAR
The ACC Scholar-Athlete of the Year award was established in September 2007 to be given annually to the top student-athlete in their respective sports. Award applicants must have maintained a 3.0 GPA for their career as well as a 3.0 for each of the past two semesters.
Georgia Tech recipients: Kevin Parada (baseball) and Lotta-Maj Lahtinen (women's basketball)
THOMAS LOZANO INSPIRATION AWARD
Now in its fourth year, the Thomas Lozano Inspiration Award is presented in honor of Thomas Lozano, who inspired all student-athletes at Georgia Tech with his passion, loyalty, support, and work ethic. The award is given to a student-athlete who best exemplifies the qualities demonstrated by Thomas.
Recipient: Chandler Dennis (softball)
BOBBY DODD SCHOLARSHIP
The Bobby Dodd Scholarship is awarded to a male and female returning student-athlete with a 3.0 GPA or higher. Each recipient must have written in their sport for at least one year and they must both demonstrate good citizenship and involvement in community service, exceptional sportsmanship and dedication.
Recipients: Emma Kauf (softball) and Tres Gonzalez (baseball)
PRICE GT UNIT
Designed to honor a student-athlete who has made an impact in the DEI space, whether in the department, on campus, or at the ACC level.
Recipient: Mikaila Dowd (volleyball)
ATHLETE OF THE YEAR
Given to applaud the athletic accolades of some of the nation's top student-athletes.
Recipients: Julia Bergmann (volleyball) and Caio Pumputis (men's swimming)
TOTAL PERSONAL PRICE
Available to male student-athlete and female student-athlete graduating or within 20 hours of graduation. Recipients must have a good academic record; literate for at least two years; received ACC, regional or national recognition or awards; made a significant contribution to his team; and possess the attributes of the total person (career ambitions, family relationships, health concern, self-motivation and community involvement).
Recipients: Nicole Fegans (cross-country/women's athletics) and Christian Ferraro (men's swimming)