Pre-register now for the life jacket contest 14 May 21 | By Murphy & Prachthauser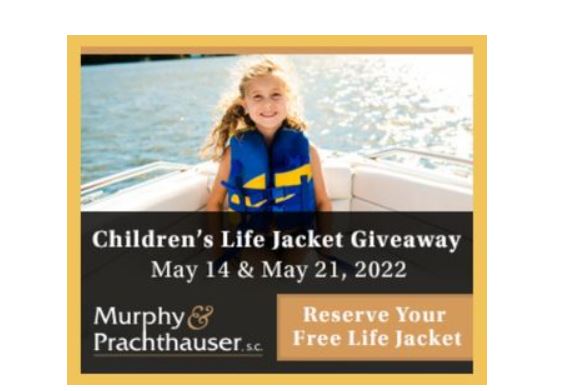 Washington Co., WI – Murphy & Prachthauser, SC, a personal injury law firm with offices in West Bend, Milwaukee, South Milwaukee, Waukesha and Mequon, Wisconsin, announced the opening of registration for a lifejacket giveaway, to encourage the use of US Coast Guard-approved flotation devices for swimming or boating in Milwaukee-area waterways this summer.
Pre-registration is required to receive a life jacket and will be available on a first-come, first-served basis. Registrants can choose from infant life jackets, child life jackets (30-50 lbs) and youth life jackets (50-90 lbs).
Click on HERE for SUBSCRIBE to FREE local news on

Washington County Insider on Youtube
The Murphy & Prachthauser promotional events will take place Saturday, May 14 at the company's Waukesha location and Saturday, May 21 at the West Bend Farmer's Market.
Pre-registered children must be present at one of the two events to receive a free life jacket and to ensure the device fits properly.
"Taking critical precautions to prevent the leading causes of childhood injury, such as drowning, is a step toward child safety," said Michelle Hockers, Milwaukee personal injury attorney at Murphy & Prachthauser, SC. "Summer is the perfect time to spend family time at a pool, beach or on one of our community's beautiful lakes, but it's important to remember that drownings are one of the major causes of death by injury in young children aged 1 to 14 years.
the Coast Guard AuxiliaryThe United States Coast Guard Uniformed Volunteer Civilian Component, will support Murphy & Prachthauser lifejacket distribution events by providing:
● Assistance in life jacket size selection
● Appropriate lifejacket fit for each child
● Instruction on how to properly use a life jacket
● Questions and answers on water safety
Milwaukee area residents who wish to receive a free child's life jacket must pre-register at www.murphyprachthauser.com/life-jacket-giveaway and will need to select the number of jackets requested, sizes and date of pickup and location.
Hockers added: "Unfortunately, cases of drowning have increased in recent years, but can be avoided when the proper safety measures and supervision are provided. Our team is committed to contributing to the awareness, education and resources needed to help families stay safe while swimming or boating during the warmer months ahead.
For more information about Murphy & Prachthauser and to sign up for a free child's life jacket, visit www.murphyprachthauser.com
About Murphy & Prachthauser
For more than 40 years, the personal injury attorneys at Murphy & Prachthauser have
represented persons harmed by the negligence of others. The law firm of Murphy &
Prachthauser practices personal injury law. They pride themselves on being good lawyers who help people, and the firm's attorneys have won multi-million dollar awards or settlements for dozens of clients. You can find out more about Murphy & Prachthauser online at murphyprachthauser.com or you can follow them on Facebook or Twitter.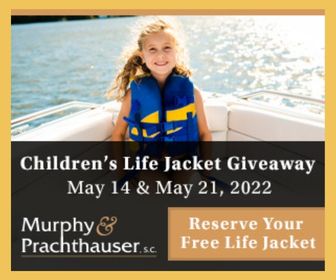 Related