Find the perfect spring jacket Fashion & Beauty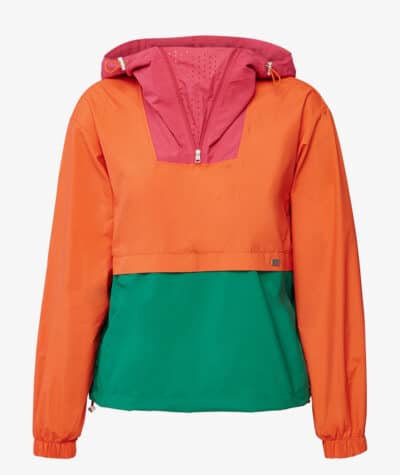 What are you looking for in a spring jacket? Something that's designed to handle hiking in a rainstorm? Or are you looking more for comfort: a jacket that's easy to put on and goes with any outfit, adding a layer of warmth for windy spring days. Of course, it would be ideal if this spring jacket could also be worn in autumn and summer. Indeed, there are many things to consider!
Knowing that there's not room in the closet (or budget) for every type of outerwear, we thought a round-up of some of our favorite spring options might help. to discern exactly what you want and what you need. Naturally, we've turned to the Canadian designers and independent retailers we love to help inspire your quest for the perfect spring jacket.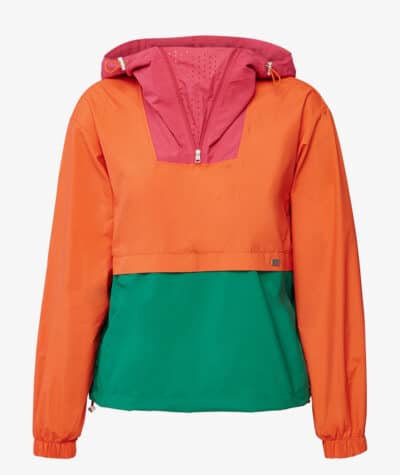 Soia & Kyo Carmen Packable Water Repellent Sweater – $195
After a long winter, putting on something this shiny gives hope, even excitement. The hip-length water-repellent sweater is designed with an adjustable elastic drawcord at the hood, elastic cuffs and a kangaroo pocket with welt opening. Like those K-ways from childhood, we love that this Soia & Kyo jacket rolls up into a packable pouch. More details about this beauty here.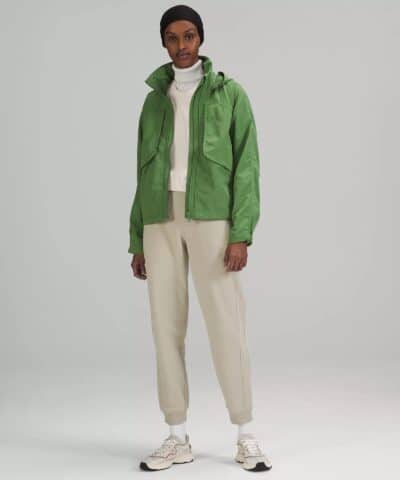 Always Effortless Lululemon Jacket – $138
This windproof and water-repellent bestseller from Lululemon is designed for people on the go. The classic fit hits just below the hip and allows for layering underneath, for days when the temperature drops below 15 degrees. Always on the lookout for good pockets, the effortless jacket features zippered hand pockets and a concealed phone pocket. With an adjustable waist and a stowable hood, it's a great lightweight option that can handle the elements. See more Lululemon spring jackets here.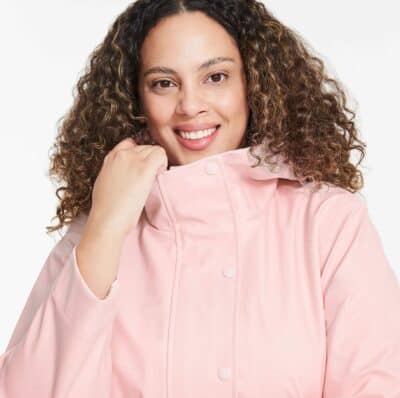 Joe Fresh Pink raincoat – $69 (on sale now for $49)
If low cost is the number one priority, this cute Joe Fresh waterproof raincoat is your best bet. With a large hood, long sleeves, two flap pockets, button placket and two-way zip, this pink dream will keep you dry on muddy days, and also comes in a lovely sky blue colour. Take it while it's here.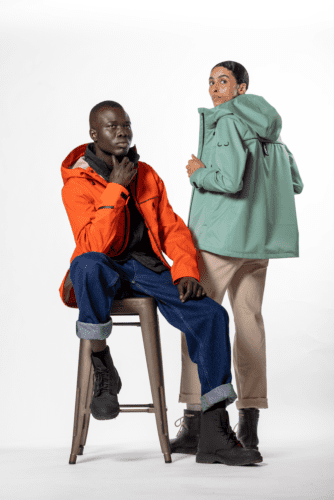 Wuxly Roncy Tri-Season Tech Shell – $495
There are plenty of awesome details to share about the Roncy Tri-Seasonal Tech Shell, but what impressed us the most was that this waterproof shell is made from recycled plastic bottles. It's a jacket with a story. But it's also built to withstand the elements. There are many selling features, which are easier to relay in a listing.
Critical seams sealed to prevent moisture penetration

Removable insulated jacket for an extra layer of warmth

Hood with visor reinforcement and adjustable drawstring to protect against rain and wind

Smart pockets with internal organization compartments for everyday essentials

Reflective elements along the back yoke, rear pull and drawcords to keep you visible on dark, gray days

Convenient rear zipper to hang your jacket

Adjustable cuffs

Sleeve pocket for a quick grab of your metro card or credit card (COOL!)

Security pocket inside the shell to keep your valuables
We salute Wuxly's commitment to sustainability, as well as its promise to remain vegan and cruelty-free. See their full collection here.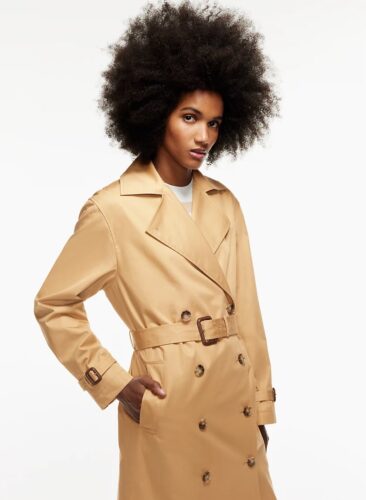 Artizia Babaton Vanasco Trench – $268
As we expected, Aritzia offers around 900 different spring jackets, but we love the timeless quality of this classic trench coat. Perfect for returning to the office, weekend brunches or research around town. Lined with interior pockets and a detachable belt, this trench coat is fun to wear and an addition to your wardrobe that will never go out of style. More details here.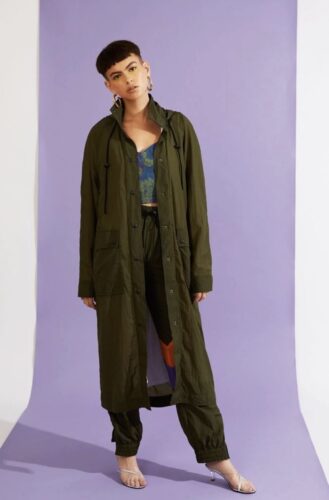 Kurt Lyle Diega Jacket in Olive – $315 (On sale for $180)
We like it a lot, and we found it in this Kurt Lyle Diega jacket, currently on sale at Toronto's beloved Ease storewho is committed to slow fashion.
Inspired by traditional sportswear, the Diega Jacket is a full length nylon shell with long sleeves with a crew neck and zipped hood. I don't know if it's the model or the jacket, but we're definitely getting a shit-free vibe with this one. I love the length and that putting it on anything is a fashion statement. Get it from Ease online store and browse all their treasures.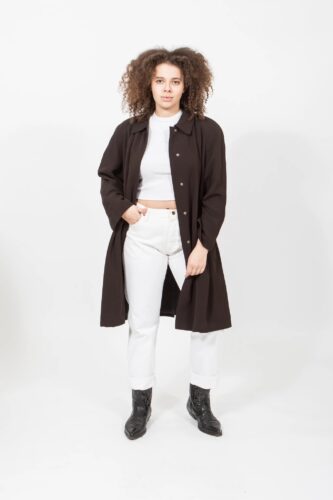 Hilary Radley Chocolate Car Coat – $100
Another way to find a cheaper spring jacket is to embark on a vintage exploration. The thrill of the hunt is satisfying on its own, but especially rewarding when you find a gem like this 1990s Hilary Radley car coat.
The Chocolate Car Coat with a wool lining is currently on sale at Penny Arcade. Raglan sleeves, trapeze shape, slanted pockets, cuffed sleeves are some of its redeeming features. If you are a size 14, hurry up.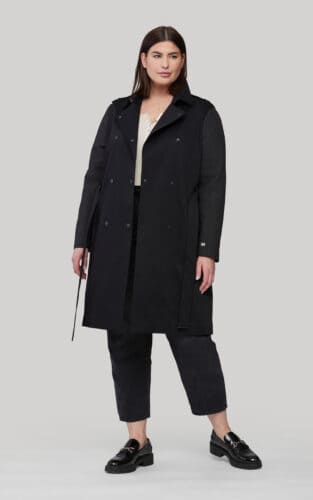 Soia & Kyo Kya water-repellent trench coat – $445
The Soia & Kyo Kya is a classic trench coat with a modern twist! This double-breasted, knee-length trench is detailed with a micro-pique combo on the sleeves and back, a notched collar and includes a belt that can cinch in the waist, for a more defined look. Fully lined and water repellent, this beautiful jacket will keep you feeling dry and feeling great. The Kya Trench also comes in sage and sand colours. See the whole Soia & Kyo spring collection here.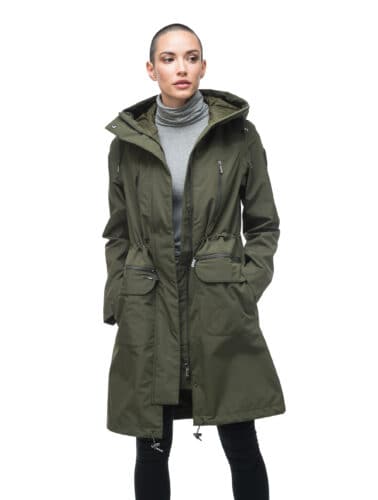 Nobis Ines Anorak – $650
Crafted from a premium windproof, water-repellent and breathable fabric, Ines is a fashionable and functional mid-length anorak that will keep you covered and protected, rain or shine. It features a seam-sealed construction, high funnel neck and Nobis' DPTM nylon lining for extra protection from the elements. A drawstring hood, hem and waistband allow for a customizable fit, while multiple exterior pockets offer convenient storage for small valuables with a chic utilitarian edge.
Although it is more expensive, it is definitely a jacket that can be used in spring and fall. See other colors here.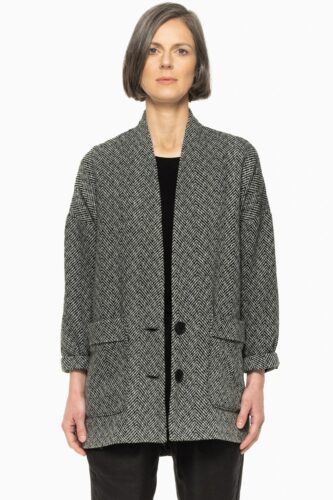 Valérie Dumaine Recycled Niman Jacket – $235.00
This gorgeous blazer won't keep you dry, but it's the kind of jacket you'll live in.
Made in Montreal by designer Valérie Dumaine, the Niman jacket was made from reclaimed fabrics as a raw material resource, diverting it from landfill and incineration. Made of 75% wool / 25% polyamide, it's an outer layer that will keep you warm on the cooler days of spring and autumn, and the perfect jacket for summer nights when the temperature drops. Sold to Victory Shopyou can see more patterns and colors of the Niman jacket here.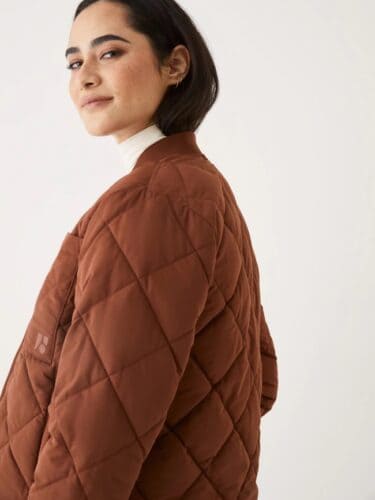 Frank And Oak Skyline Reversible Bomber Jacket In Cappuccino – $169
This reversible bomber jacket from Frank And Oak is a best-seller for good reason: it's designed to keep you warm and dry throughout the seasons. Designed with Canadian weather in mind, this winning jacket can be worn alone or under any coat.
Made from a blend of recycled PET bottles and animal-free Thermore® Ecodown® insulation
Wind resistant and water repellent
Reversible
Wax finish for extra fabric protection
Ribbed collar and cuffs
Fully machine washable (to save you an annual trip to dry cleaning)
Compatible with all Smart-Layer topcoats thanks to our famous click system
Sounds like a smart investment.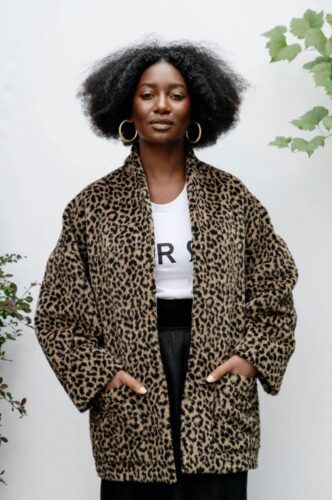 Horses Atelier Patch Pocket Jacket – $525
While HORSES has just released a Super warm vinyl trench coat, we decided to include the patch pocket jacket in this roundup as it has become a timeless favourite, and certainly a perfect piece for chilly spring days, but also something you'll wear all day long. the year. Open and oversized with a shawl collar and lined patch pockets, this handsome piece offers a relaxed fit and instantly transforms any jeans and a tee into a jaw-dropping total look. Of course we like it to be made locally in Toronto.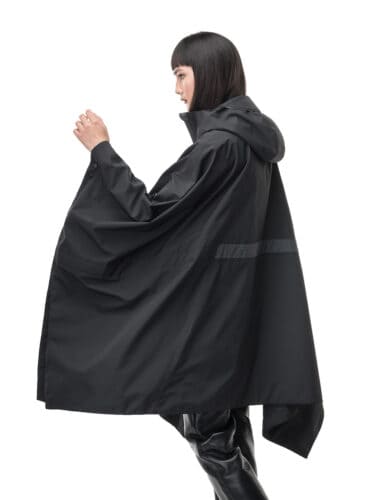 Nobis Hydra Unisex Performance Poncho – $650
the Hydra Unisex Performance Poncho is the closest thing to an actual superhero costume and can withstand extreme weather conditions Made from durable micro-denier fabric with taped seams for high performance protection and with a lightweight nylon lining, the Hydra is designed to withstand the wettest conditions (even the zipper is waterproof). We appreciate the deep "kangaroo pocket" in the front, which doubles as space to store the Hydra when travelling.
Dramatic, durable and machine washable, the Nobis Hydra ticks many boxes.
The Hydra is available for pre-sale as part of the upcoming Spring/Summer 2022 collection, and comes in white, black, tea and old gold. What color calls your name? Simu Liu is a big fan.