Culture Vendor Event Brings Small Business to the Quad – AIC Yellow Jacket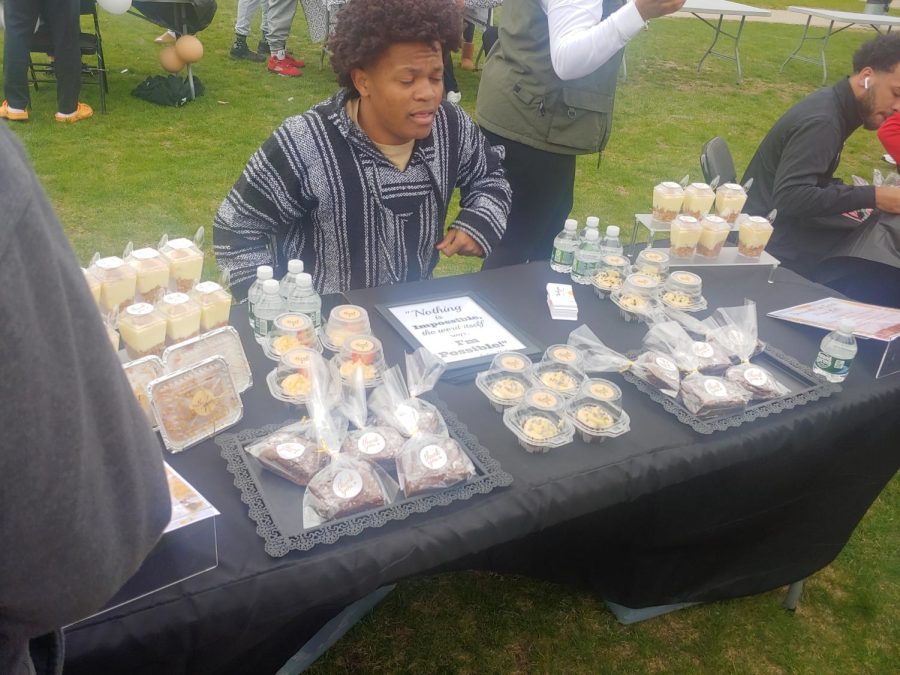 In 2022, starting a small business requires more than a pitcher of lemonade and a wooden stand. Many small business owners face challenges, from lack of consumer attention to finding a place to house their business, to finding a balance between business and education or work. . These are all the reasons why AIC's Culture Vendor event is important. It was hosted by the Student of Color Working Group on Thursday, April 21 from 2-6 p.m.
There was a range of businesses to peruse during my visit to the vendor tables set up outside the center of campus. A vendor was selling beauty products from Boosted beauty (by Kailey Marie) with face and hair care products.
There were many options for fashion, like Pearls by Ja'nae with pearl jewelry and accessories, as well as phone tags. There was also a hair braider named Keke (@ki._hairz on instagram) who did braids and twists and sold waist beads on the side.
Jewelry piece by piece is hosted by Olivia Sousa, who also makes beaded necklaces and bracelets in addition to charms with zodiac signs on them.
Looking for new clothes? The Popular Loner clothing brand was co-founded by Joshua Shervington and Jaysen Sullivan. They had hoodies and sweatpants with their logos on them, with a figure of a man on his phone all alone.
What if we are not looking to buy new goods, but to repair them? Well, there was also a shoe cleaning service by Malik Barrett which he calls "Refresh My Culture," where he cleaned shoes and sneakers.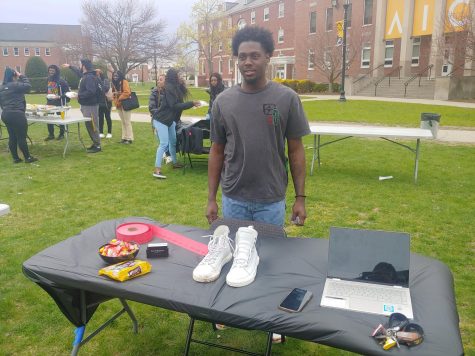 If you get hungry while shopping, there are also several dining options to choose from. There were many large and colorful displays. Bree's Kitchen and Sweets by Na'Bree had a nice mix of dishes like shrimp linguini, pasta and garlic bread plus sweets like cupcakes.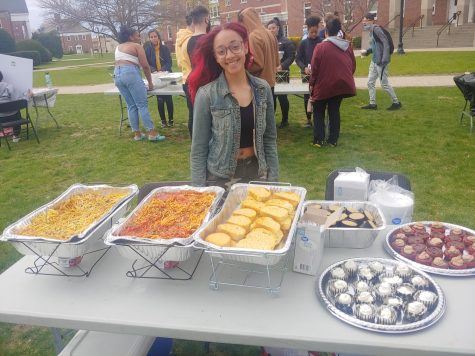 Palace of Cece by Stephanie Gauvin had lots of homemade dishes such as rice and peas, baked mac and cheese, each with an appealing smell to lure you in. Those with a sweet tooth would also be delighted to Desserts with Tahh, by Tashir Ballard. I acquired an aesthetic cinnamon cake that I found addictive and layered for just $5.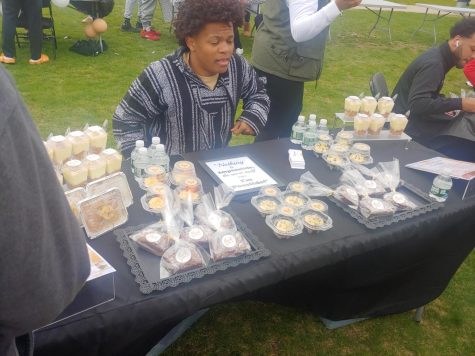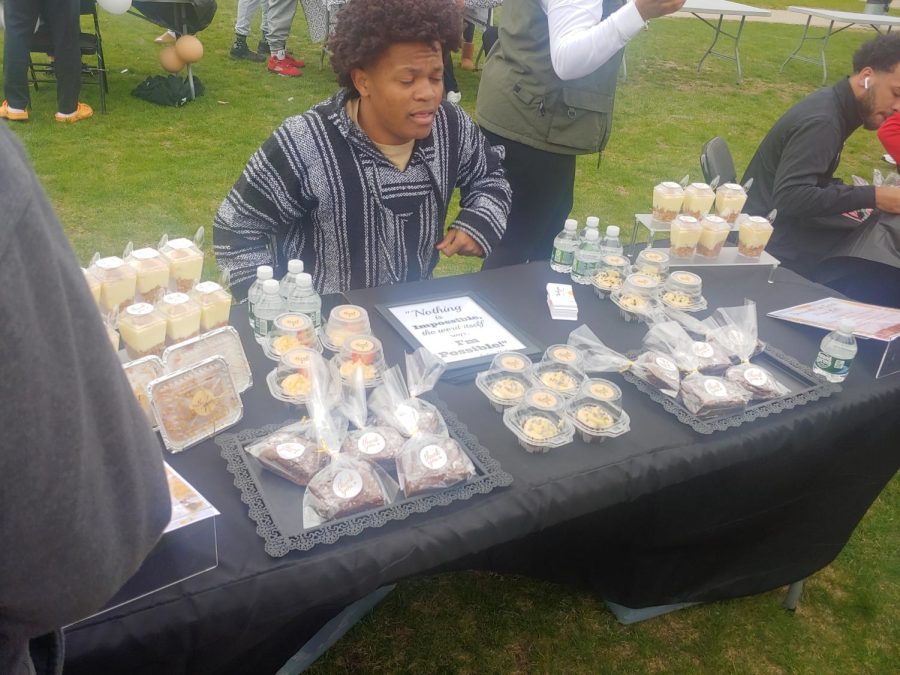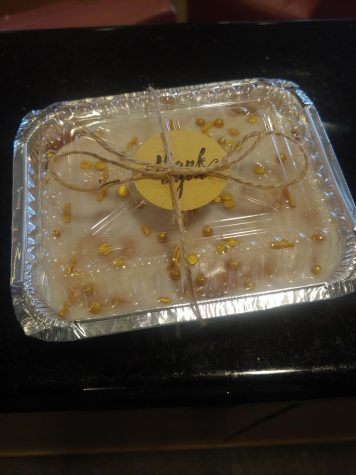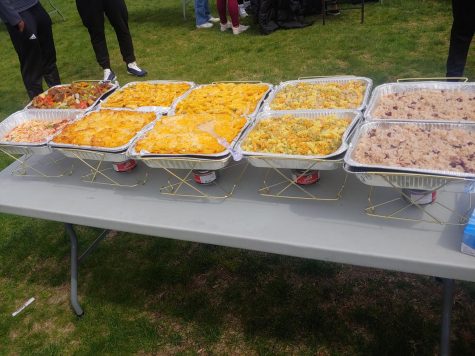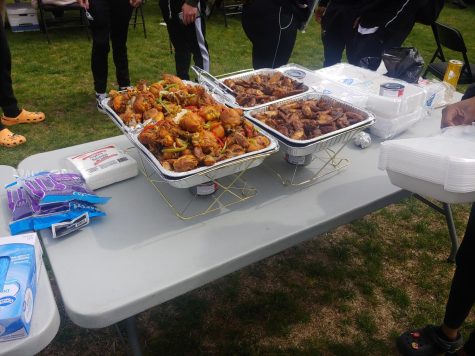 However, many vendors were not solely run by owners. Their friends were just as present and supportive. It was common to see three or more people working at a single table. If the owners felt shy or overwhelmed, their friends were always behind them. Many times I heard: "It's your business; you should be in this picture! and similar statements to motivate their friends to stand proudly with their tables while they were photographed. The community support they received was overwhelming and there was a very strong turnout from AIC students. Some tables even saw a competitive crowd trying to get a look at this or that first.
According to PNAS.org, 41.3% of businesses said they would take a break between 2020 and 2022 – temporarily close due to the pandemic. 1.8% even said they were closing permanently. Between keeping themselves and their customers safe, small business owners have had to take a number of precautions to keep everyone healthy. But it inadvertently made the small business boom they dreamed of much harder to achieve. The Culture Vendor event is an important step in the right direction, giving businesses a small but safe place to advertise their products without sacrificing school time or social interaction with peers. Hopefully this will happen again in the future.