Crofter's Fair Isle design was chosen from 500 entries in the Vogue jacket competition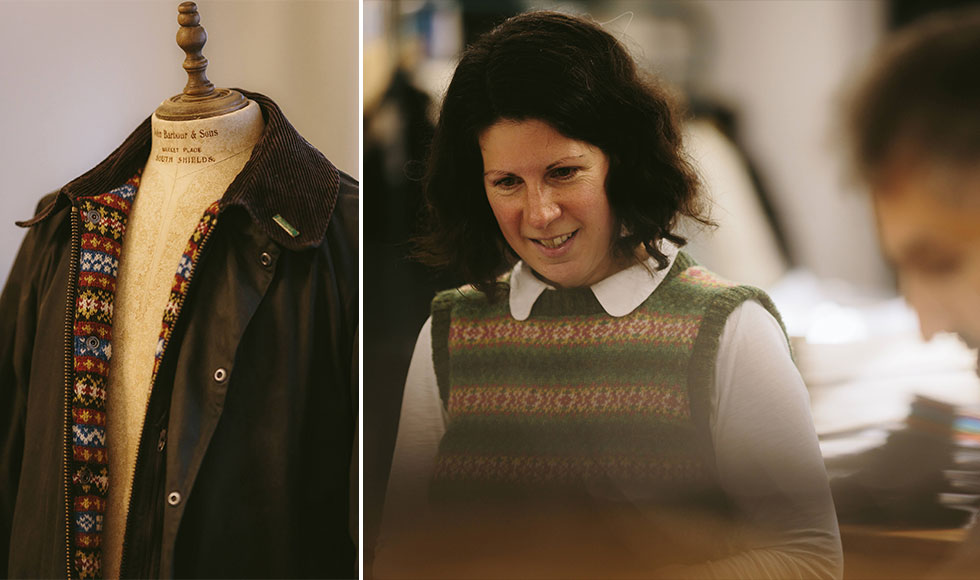 IT IS considered a rare sight – the Fair Isle knitwear, actually made on the remote island, featured in fashion magazine Vogue.
But that's what happened after a jacket design by Fair Isle crofter and knitter Rachel Challoner was selected from 500 entries in a Vogue competition.
The magazine invited submissions for a redesign of a Barbour jacket in honor of the 100th anniversary of 're-waxing' – a technique for ensuring the longevity of the company's jackets.
Challenor featured a design with a Fair Isle knit lining and storm cuffs, while the outline and coordinates of the remote island featured prominently on the back of the jacket.
Although she didn't win the contest, she was selected as one of only five finalists – securing a spot in British Vogue's April edition.
But this does not end here; the finalists' jacket designs were displayed at Selfridge's in London for a month, and a replicated version of each will then be sold to raise money for the Prince's Foundation charity.
Additionally, Shetland's MSP Beatrice Wishart praised Challoner for a Scottish Parliament motion, adding it was a "remarkable achievement".
The jacket design featured wool from Jamieson's of Shetland which Challoner hand knitted in Fair Isle.
She entered the competition to raise the profile of Fair Isle and its small community, and "introduce her to an audience who may not even have heard of her or know her whereabouts".
"I was struck for six when in September I was invited along with four other finalists – out of 500 entries – to a meet at Barbour headquarters where we were able to tour the Barbour factory, try our hand at re-waxing jackets and pitching our ideas to their design team," Challoner explained.
She returned to Fair Isle with the paper patterns for the jacket lining and cuffs, and then had about a week to knit her panels to those exact measurements.
"At the end of November, the finalists were all invited to Brown's Hotel in London where we were able to see our 'made-up' jackets for the very first time, then made a presentation to the jury, made up of VIPs from Barbour, Vogue magazine, Selfridges and The Prince's Foundation," Challoner continued.
"One of the things commented on was the parallel between Barbour being a multi-generational family business, just like Jamieson's of Shetland, including the fantastic yarn I used to knit the lining and the cuffs.
"All the jackets were then featured in an article in the April issue of British Vogue magazine."
The islander doesn't seem too discouraged at not winning the top prize, which included £5,000. Instead, she's just happy to have raised Fair Isle's profile a bit more in what she described as an "incredible experience".
Challoner added that every autumn and winter 'you can guarantee that every fashion magazine will feature what they call 'Fair Isle' sweaters and have dozens of photographs of examples – none of which are ever real knits' Fair Isle'".
"So it's really exciting to see real Fair Isle knitwear – which has been knitted here in Fair Isle, using traditional patterns and pure Shetland wool – on display for once and I wondered if it was the first time genuine Fair Isle knitwear had made it onto the pages of Vogue.
Become a supporter of Shetland News
Shetland News asks its many readers to consider starting to pay for their dose of the latest local news delivered directly to their PC, tablet or mobile phone.
Journalism has a price and because that price is not being paid in today's rapidly changing world of media, most publishers – national and local – are struggling financially despite very healthy audience figures.
Most online publishers have started charging for access to their websites, others have gone a different route. Shetland News currently has more than 540 supporters all of which make small voluntary financial contributions. All funds are used to cover our costs and to further improve the service.
Your contribution will ensure Shetland News can: –
Bring you the headlines as they happen;
Stay editorially independent;
Giving a voice to the community;
Increase site traffic further;
Research and post more in-depth news, including more Shetland Lives features.
If you enjoy what we do and value unbiased local journalism, then become a supporter of Shetland News by making either a one-time payment or a monthly subscription.
Support us from just £3 a month – signing up only takes a minute. Thank you.
Already support? Login to hide this message.